Artists 2017
Artists who stayed at Messen for 1 up to 3 months, this year, 2017.

Despina Nissiriou (UK/Greece) www.despinanissiriou.com
Despina Nissiriou is a Greek artist that lives and works in Edinburgh. She studied Ceramics and Sculpture at the University of Wolverhampton in England and Painting at the Athens School of Fine Arts. She then carried on her studies with a two year postgraduate course in Sculpture at the Edinburgh College of Art. Despina has taught art in several primary schools in Greece and has participated in many group shows in Greece, Norway and the UK.
I am driven by a desire to make sense of the world-self. I see the past as a key figure of my experience and I spend a lot of time learning about it, thus making it another malleable material to work with.
My work is project-based and moves freely between different materials and techniques as well as art disciplines, following a playful and intuitive call.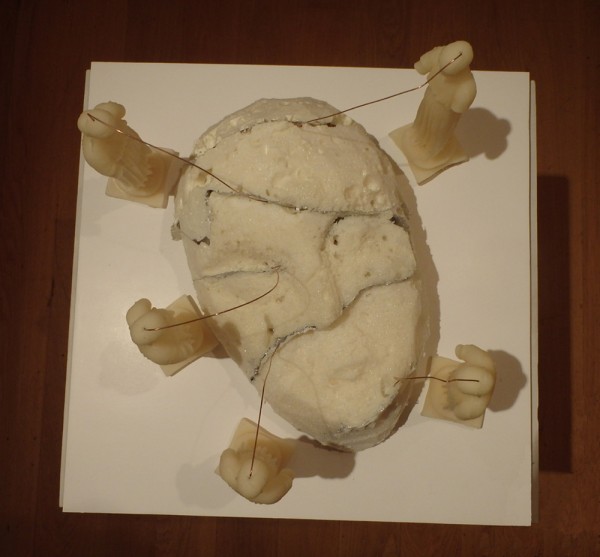 Saurav Roy Chowdury (India) http://sculturesauravroychowdhury.blogspot.no/
My art, in which I use a wide range of materials, wax, plaster, clay, glass, resin, fibreglass, different kinds of metal and, occasionally, incorporating video, is about how I perceive the world today. This manifests itself in different ways. At one level, my art has an intimate connection with mortality. Whether we realize it or not, we all are drawn to the images of death because while it terrifies us, it also somehow comforts, and although it can manipulate us, it also reassures. We humans understand inevitability of our own death.  Since prehistory, we have been creating images of our ancestors to reassure ourselves that death isn't so bad after all.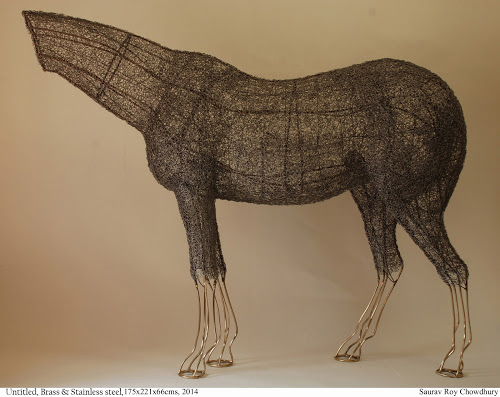 Marika Kaipainen (Finland) https://marikatomukaipainen.blogspot.no/
Interaction and the need of aesthetic experiences are the basic needs of a human being in my opinion. We become alive through our experiences. Our body and brains receive treatment and cure from positive experiences and these experiences are never in excess. Memorable, multi-sensory, art-focused interaction is offering exactly this. The core of my art include interaction, different states of creating art, experiencing life in a positive light and by all this, making the surrounding world a better place. My work is portrayed by multi- sensory experience, communal and process oriented production and interaction.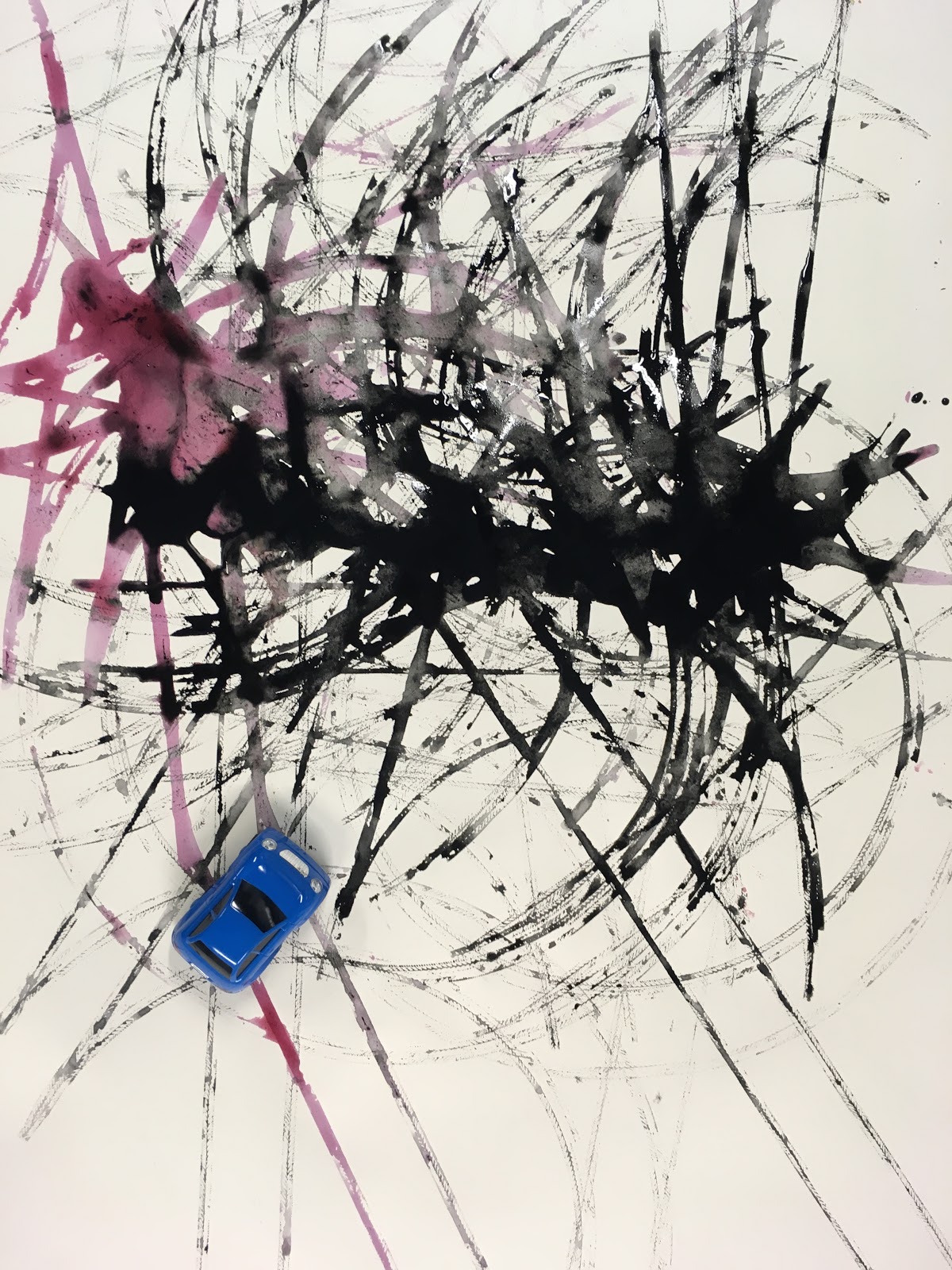 Larissa Borteh (USA) http://www.larissaborteh.com/
In Larissas paintings and drawings, the focus is on fractured elements of interior settings as a dislocated sense of home or physical body.
The familiar collapses into the unfamiliar: negated and disjointed into the surrounding space.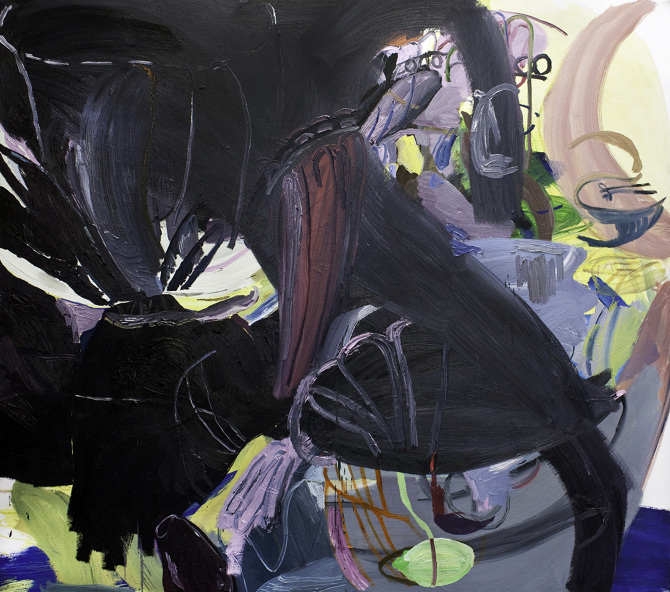 Curiosity and longing to strange and unfamiliar objects is what drives Edith to make her paintings, with a rich traditional background from European 17th century paintings. Her questions are about what are people driven by and has humanity changed through the centuries? With paint and collage techniques she examines these iconic images. Similar to a scientist, but without proof.
Elisabeth Altenburg (Austria) http://elisabethaltenburg.blogspot.no/
Elisabeth has been in Messen in Winter 2013, so is here for her second residency. She works with objects and installations out of soft (mostly textile) materials. Starting from the 2. dimension and bring them with simple steps to the 3. dimension, and into a different context. In search for a new shape. She works mostly site specific and gets inspiration by her surroundings.
Also check KHMessen documentation website: http://doc.khmessen.no/projects/elisabeth-altenburg-austria/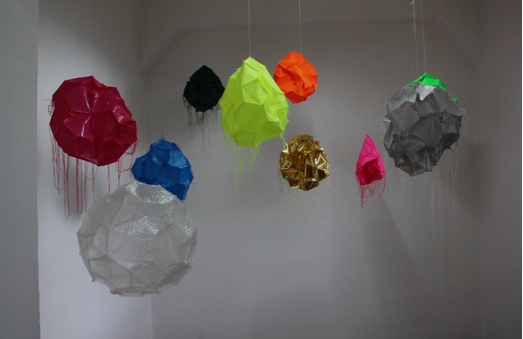 Yuko Kinouchi (Japan)   http://yukokinouchi.tumblr.com


Inne Eysermans (Belgium) www.soundcloud.com/inneeysermans
Musician Inne Eysermans studied Music Production at School of Arts in Ghent, where she discovered her focus on sound. At that time, she founded her band Amatorski, in which she is a composer, arranger and producer. In her work in which sound and music are the focus, the central idea is the relationship between man and the sound of his environment. In their latest – site specific – installations, the public sphere and space was their main focus in the process of making a fiction story and sound.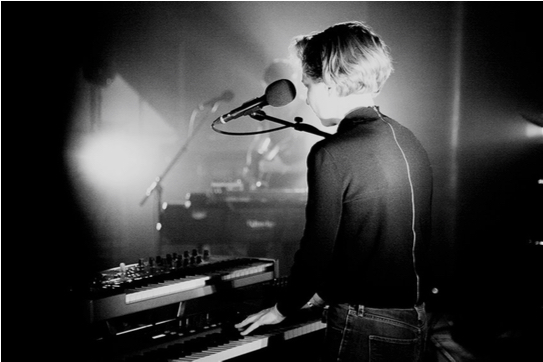 Tarelkin makes sculptures that base themselves on the physical measurements of the human body.  I see these objects as components of a certain kinetic process in which human participants are to interact. The position of the participant's body is isolated from it's inherent environment and the pose becomes a fixated second in time, a still frame coerced by the geometrical nature and construction of the sculpture.
Daehyun Kim (Korea) http://www.moonassi.com
'Moonaa' is my artist name. I wanted to be '無 Moo(which means nothing or empty) – 나 Na(which means ego or the conscious "I")' as an empty ego that can contain anything without ego. Because I thought that I have to empty myself, if I want to tell a story that everyone can sympathize with. The characters in the picture act me and your story with a quiet gesture. I express various emotions that I feel in relation to many people around me. Moonassi drawing is a project that will lead a lifetime, and we are gradually expanding the outline. Moonassi drawing is gradually expanding the area. In addition to exhibiting works at a gallery, I continue to carry out various activities such as collaborations with various brands, magazine illustration, and public art.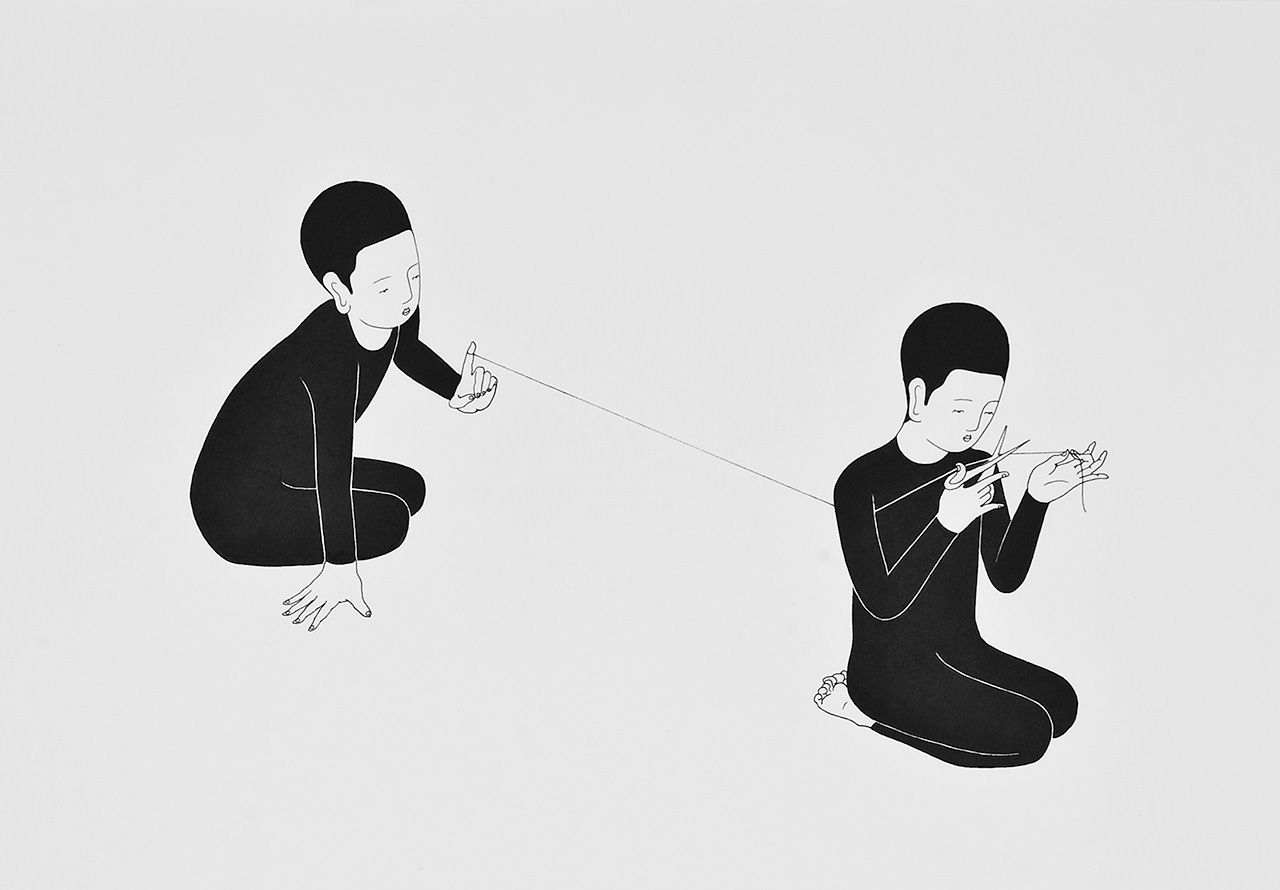 Eva is visiting Messen for the second time. This time she is preparing a duo exhibition, with Solveig Landa, at galleri Guddal in Rosendal, Norway.
The exhibition opens on 8th April, and stands until 13th May 2017. More info at: http://galleriguddal.no/utstilling/eit-hav-imellom
Eva works with organic forms, cycles, seasons, land, water, sky, order, rhythm, repetition, growth, life, regeneration. The thin papers, which Eva prints on, draw on, cut up, mix, are layered endlessly on the canvas. Her is about color, line, material, form, and space and about art as a process that always changes and grows.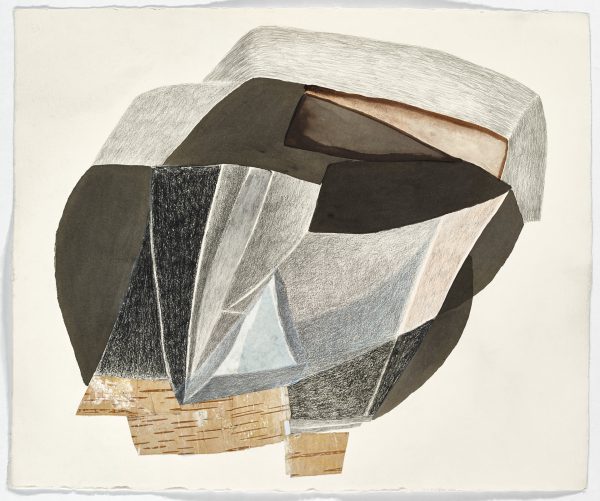 Sandra Blichert Christensen (Danmark) 
http://www.sandrablichert.com
Through drawing, printmaking, collecting, ceramics and woodwork Sandra is exploring personal narratives and memories
.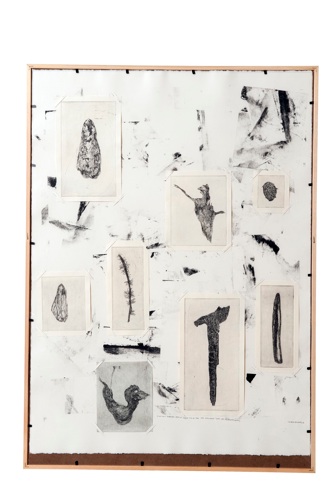 Philipp Bünger (Germany) www.philippbuenger.de
Being educated as an architect Philipp tends to give things a structure; he´d rather recompose nature than depict it in its natural beauty. By doing so he turns it into an idealised, if not symbolic version of itself.
Philipp is obsessed by formalizing natural phenomenons and bringing them into a system of aesthetic or geometrical references. He works with photography and drawings.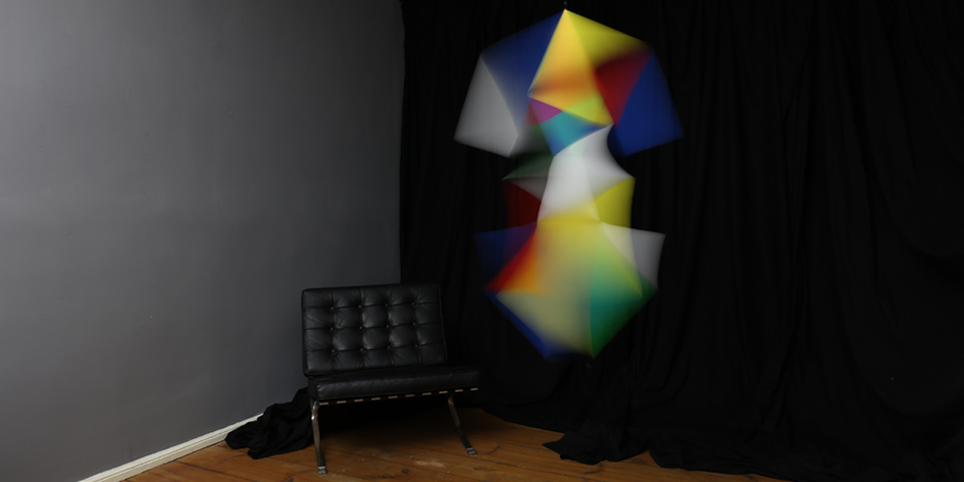 Nai Zakharia, (NYC) is a French Illustrator living and working in NYC. She graduated from the School of Visual Arts in 2015. Her main area of interest is book Illustration and she especially enjoys working with pen & ink and watercolor. http://cargocollective.com/nzakharia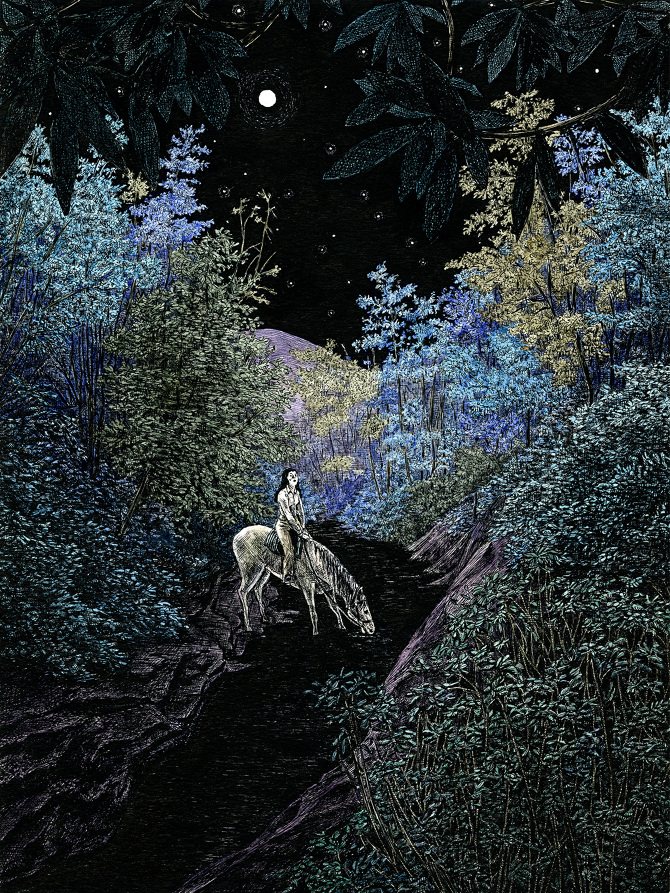 Maia Nichols (Berkeley, CA) is an artist and critic currently based in Los Angeles. She holds a Bachelor of Fine Arts and a Bachelor of Psychology from the University of British Columbia. She has also studied at the Ecole Supérieure des Beaux-Arts in Paris, France. She earned a Masters in the Department of Critical Studies at California Institute of the Arts in 2016.  Her work has been exhibited in numerous venues internationally and she has written for various publications.
Her gestures involve play, memory, text and repetition to create conversations between objects, spaces and individuals. She investigates behavior, interpretation and language to untangle and flatten out ingrained methods of perceiving and moving, providing platforms for discourse surrounding ontologies of difference. She hopes to propose a paradigm shift, legitimizing previously dormant harmonies between the self and what is external to the self.
www.maianichols.com