Aud Bækkelund
Strandlinja i Ålvik omtrent slik den var 1905, før fabrikken sine inngrep i landskapet. En forminska versjon av linja er nedfelt i plenen og fylt med kvarts. Kvartsstein er og utgangspunkt for produksjon av ferrosilisium, som nå framstilles ved Elkem Bjølvefossen på stranda her i Ålvik.
The shoreline in Ålvik as it was in 1905, before the factory's interventions in the landscape. This reduced version of the line is carved in the lawn and filled with quartz. Quartz stone is also the starting point to produce ferrosilicon, which is now produced at Elkem Bjølvefossen at the same shore here in Ålvik.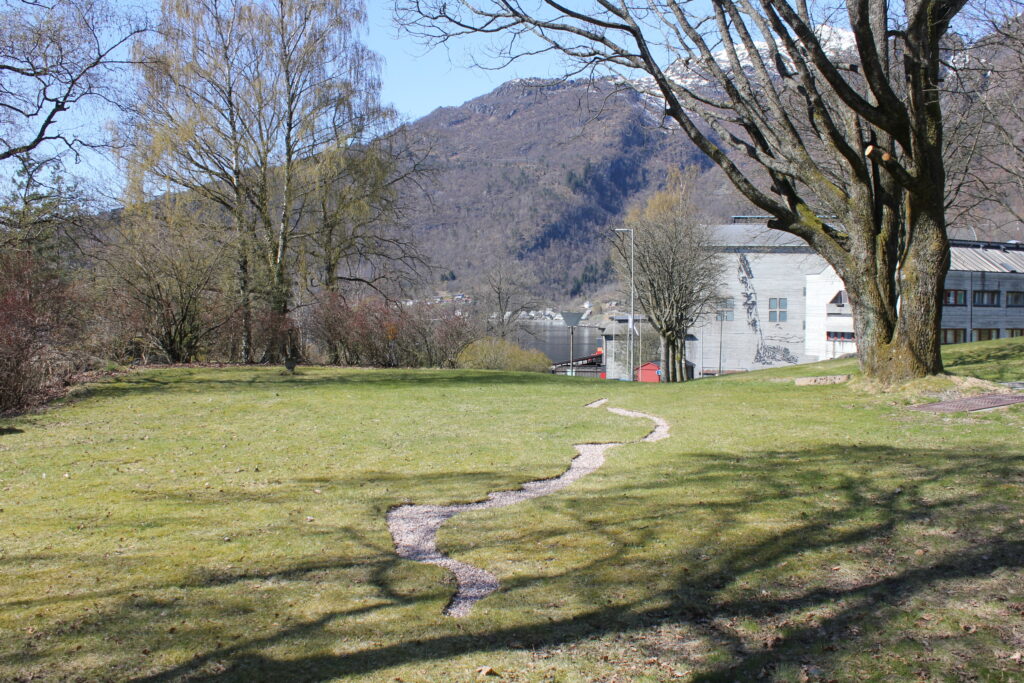 Om Aud Bækkelund
Jeg ser etter det poetiske i hverdagen og jobber med materiale knyttet til sansing og minner. Generelt vil jeg si at jeg utforsker en stor sjanger av materialer og teknikker, men min tekstile bakgrunn skinner ofte igjennom. Min produksjon spenner fra store installasjoner til mindre skulpturelle objekt. Jeg jobber gjerne stedsrelatert og har deltatt i en rekke prosjekt ute i forskjellige landskap.
About Aud Bækkelund
I look for the poetic in everyday life and work with material related to sensing and memories. In general, I would say that I explore a large genre of materials and techniques, but my textile background often shines through. My production ranges from large installations to smaller sculptural objects. I like to do site specific works and have participated in a number of projects outside in different landscapes.