Gabriel Johann Kvendseth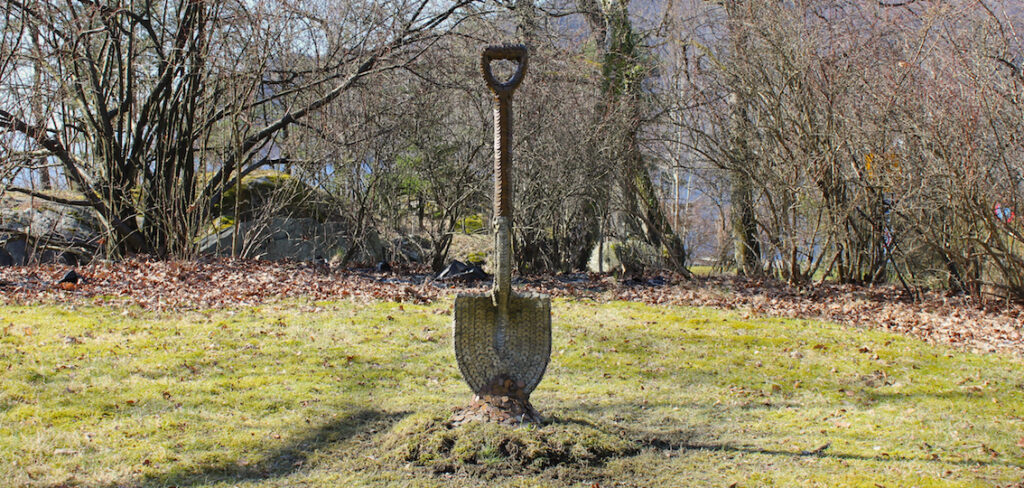 ———-
Til Messen Kunstpark har han omarbeidet skulpturen Arbeidskapital – en alminnelig spade laget av norske kobber-, nysølv-, bronse-, og kupranikkelmynter fra tidsrommet 1909 – 2013.
Kunstverkene til Gabriel Johann Kvendseth (født I 1984, Karlsøy) fremstår på en og samme tid multifunksjonelle og dysfunksjonelle, oscillerende mellom konkret prosa og metafor. Bevegelse over disiplinære grenser, mellom kunst og håndverk, er en ledende trope. Hans praksis innlemmer skulptur, performance og installasjoner. Han jobber mye med forlatte og utrangert materialer som han manipulerer på idiosynkratisk vis til de fremstår på ny som våpen, verktøy eller seremonielle artefakter.
For Messen Artpark he has reworked the sculpture Labor Capital – an ordinary shovel made with Norwegian copper, nickel silver, bronze, and cupronickel coins minted between 1909 and 2013.
The artwork of Gabriel Johann Kvendseth (b. 1984, Karlsøy, Norway) appears at the same time multifunctional and dysfunctional, oscillating between concrete prose and metaphor. Traffic across disciplinary borders, between the domains of art and craft, is a leading trope. His artistic practice encompasses sculpture, performance and installation. He frequently works with abandoned materials, which he manipulates idiosyncratically, often ending up with sculptures that resemble weapons, tools or ceremonial artefacts.
————–