Messen's Open House is a public meeting between the guestartists, staying in Messen at that moment,
and the local people and those interested. The guestartists give a presentation about their work, a workshop or give a concert.
In every way they would like to present themselves, and their work.
Du er invitert til:
MESSEN HØSTUTSTILLING

opningtalar Aud Bækkelund
KUNST – DIKT – MUSIKK
OPNING LAURDAG 24.OKT FRA KL.18:00
UTSTILLINGEN ER OPE SØNDAG 25.OKT FRA KL.13:00-16:00
TIME: SATURDAY 24 OKT 18:00 pm
PLACE: ART HOUSE MESSEN, ÅLVIK, NORWAY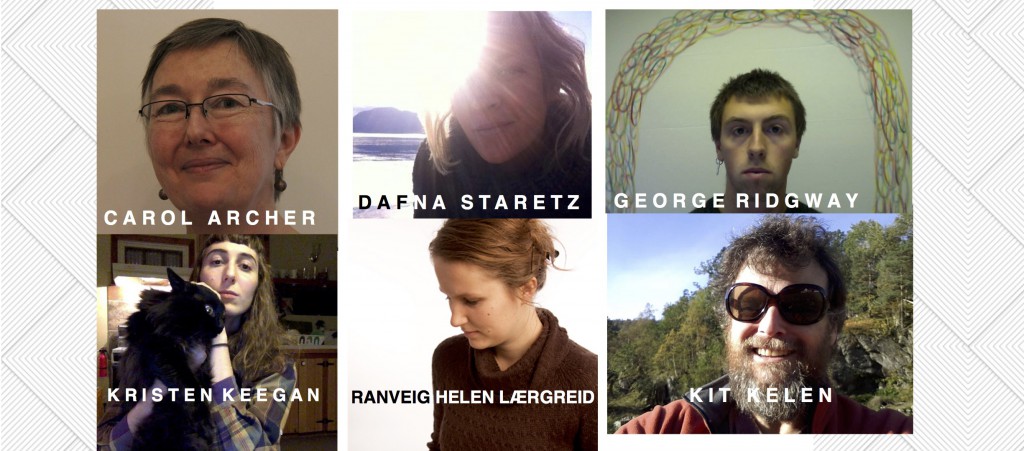 ABOUT THE ARTISTS:
CAROL ARCHER is an Australian artist who has lived in Hong Kong and Macao for the past seventeen years. At Messen she is working on drawings about the trees and sky and rocks. www.carolarcher.com
DAFNA STARETZ is an artist born in an israeli kibbutz, currently living in Berlin. She creates watercolor painting assemblages. http://cargocollective.com/dafnastaretz
GEORGE RIDGWAY is an artist based in Glasgow, UK. Through the 3-dimensional object, and painting, He aims to utilise natural processes and their base components as individual and poetic metaphors, presenting ultimately the vulnerable crisis of something coming into 'visibility'. http://cargocollective.com/georgeridgway

KRISTEN KEEGAN is an Edmonton artist who makes paintings and photographs and is sadly not the owner of this norwegian forest cat". www.kristenkeegan.com
RANVEIG HELEN LÆGREID is from Eidfjord, Hardanger. She has a bachelor in singing from the Griegacademy in Bergen.
KIT KELEN is an Australian painter and poet, who has been based in China for many years. At Messen he is working on a range of word, image and translation projects. www.asiancha.com/content/view/1880/468/
ALL ARE WELCOME
Coffee and biscuits served. The event will close with a musical performance and a party!